CARTE D'OR Banana Milkshake Syrup
28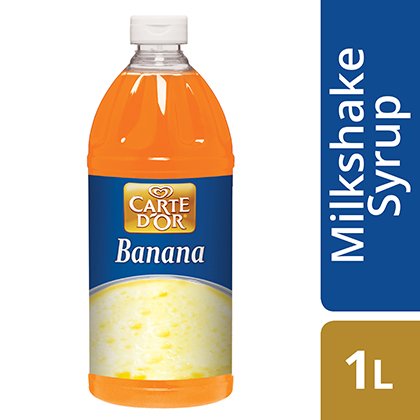 Carte D'Or Banana Flavour Milkshake Syrup, 1L
+ See all product details
UFS code:

11423

•

Unit barcode:

6001087307529

•

Case barcode:

16001087306284
All product information
Nutrition and allergens
Ingredients
Water, sugar, citric acid, thickener (E415), non-nutritive sweeteners (acesulfame K, sodium cyclamate), flavouring, colourants [tartrazine (E102), E110], preservative [sodium metabisulphite (E223)](sulphur dioxide). This Product was manufactured in a factory that processes wheat gluten, cow's milk, egg & soya
Allergen Information
This Product was manufactured in a factory that processes wheat gluten, cow's milk, egg & soya
Nutrition Information
| Typical values | Per 100 g | Per 100ml |
| --- | --- | --- |
| Energy kJ | 157.00 kJ | - kJ |
| Energy kcal | 37.38 kcal | - kcal |
| Total lipid (fat) | 0.00 g | - g |
| Protein | 0.00 g | - g |
| Cholesterol | - mg | - mg |
| Sodium, Na | 395.00 mg | - mg |
| Fiber, total dietary | 0.2 g | - g |
| Calcium, Ca | - mg | - mg |
| Vitamin C, total ascorbic acid | - mg | - mg |
| Iron, Fe | - mg | - mg |
| Carbohydrate, by difference | 9.00 g | - g |
| Thiamin | - mg | - mg |
| Vitamin A, IU | - IU | - IU |
| Vitamin D | - IU | - IU |
| Vitamin E | - mg_ATE | - mg_ATE |
Additives
Alcohol Free
Irradiation Free
Meat Free
Herbs
Artificial Sweeteners
Cereals cont. Gluten + prods.
Preservatives
AZO Colours
Milk / Dairy products
Egg/Egg products
Glutamate
Cocoa
Soybeans/Soybean prods.
Allium
Antioxidants
Spices
Vanillin
Artificial Colours (other)
Wheat
Key product information
Product Description
Carte D'Or Banana Flavour Milkshake Syrup, 1L
Product Code
11423
6001087307529
16001087306284
Usage information
Preparation
Per 340ml glass : Add 30ml syrup, 200ml ice-cream and 100ml milk.
Yield
1 litre of CARTE D'OR Milkshake syrup makes 10 litres of milkshake.
Storage
Store in a cool, dry place. Ambient (11°C - 30°C, Target 25°C) - unopened product.
Tips
Once opened, store refrigerated (4°C - 9°C) and use within one month.