CARTE D'OR Chocolate Lava Cake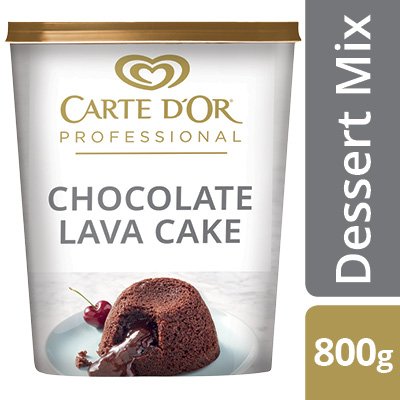 CARTE D'OR Chocolate Lava Cake is a visually appealing, rich, chocolate dessert that diners will love. Quick and easy to prepare, this dessert has a guaranteed molten centre* that will add an exciting and delightful element to your dessert menu, with minimum skill and time required. *Follow recommended recipe instructions.
+ See all product details
UFS code:

67953040

•

Unit barcode:

6001087315364

•

Case barcode:

26001087315368
All product information
Nutrition and allergens
Ingredients
Sugar, fat powder [hydrogenated vegetable fat (palm fruit), lactic casein], wheat flour (gluten), whole egg (9%), cocoa (8%), whipping agent [glucose syrup], flavouring, caramel colourant (contains sulphur dioxide), raising agent, flavouring, food acid (ascorbic).
Allergen Information
Contains cow's milk, egg and wheat gluten. Made in a factory that contains soya.
Nutrition Information
| Typical values | Per 100 g | Per 100ml |
| --- | --- | --- |
| Energy kJ | 2,056.00 kJ | - kJ |
| Energy kcal | 489.52 kcal | - kcal |
| Total lipid (fat) | 28.10 g | - g |
| Protein | 8.30 g | - g |
| Cholesterol | - mg | - mg |
| Sodium, Na | 265.00 mg | - mg |
| Fiber, total dietary | 2.7 g | - g |
| Calcium, Ca | - mg | - mg |
| Vitamin C, total ascorbic acid | - mg | - mg |
| Iron, Fe | - mg | - mg |
| Carbohydrate, by difference | 59.00 g | - g |
| Thiamin | - mg | - mg |
| Vitamin A, IU | - IU | - IU |
| Vitamin D | - IU | - IU |
| Vitamin E | - mg_ATE | - mg_ATE |
Dietary Information
Halal
Suitable for ovo-lacto vegetarians