CARTE D'OR Strawberry Instant Dessert
264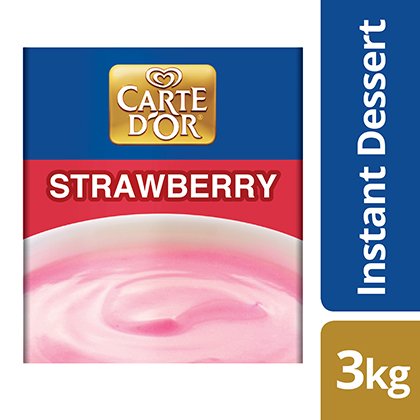 All product information
Nutrition and allergens
Ingredients
Sugar, whipping agent [glucose syrup, hydrogenated vegetable fat (coconut fruit), emulsifier (E471, E472), casein, stabiliser (E340)], modified tapioca starch, maltodextrin (contains sulphur dioxide), emulsier (E450), salt, flavourant (strawberry), colourant (E124). Contains wheat gluten, cow's milk & egg. This product was manufactured in a factory that also processes soya
Allergen Information
Contains wheat gluten, cow's milk & egg. This product was manufactured in a factory that also processes soya
Nutrition Information
| Typical values | Per 100 g | Per 100ml |
| --- | --- | --- |
| Energy kJ | 1,841.00 kJ | - kJ |
| Energy kcal | 438.33 kcal | - kcal |
| Total lipid (fat) | 9.50 g | - g |
| Protein | 1.80 g | - g |
| Cholesterol | 0.00 mg | - mg |
| Sodium, Na | 255.00 mg | - mg |
| Fiber, total dietary | 0.1 g | - g |
| Calcium, Ca | - mg | - mg |
| Vitamin C, total ascorbic acid | - mg | - mg |
| Iron, Fe | - mg | - mg |
| Carbohydrate, by difference | 86.00 g | - g |
| Thiamin | - mg | - mg |
| Vitamin A, IU | - IU | - IU |
| Vitamin D | - IU | - IU |
| Vitamin E | - mg_ATE | - mg_ATE |
Key product information
Product Code
11419
16001087306253
16001087306253
Usage information
Preparation
1. Pour 1.4 Lt cold full cream milk in deep mixing bowl. 2. Add 500g of Instant Dessert powder. 3. Whisk with an electric beater for 1 minute on low speed. 4. Scrape down and whisk for a further minute on low speed, followed by 3 minutes on high 5. Refrigerate for 10 to 15 minutes before serving.
Yield
• *Each sachet makes up 20 x 125ml servings • *Made up dessert will keep under refrigeration for up to 3 days (preferably covered)
Benefits
Conveniently packed into six 500g portions.
Storage
• Freeze Thaw stable
• Made up dessert will keep under refrigeration for up to 3 days (preferably covered)