Fine Foods Barbeque Spice
57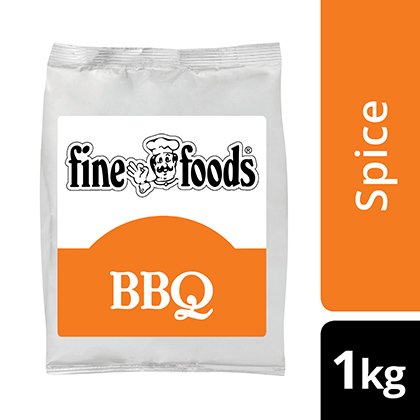 Fine Foods BBQ Spice, 1kg
+ See all product details
UFS code:

20209632

•

Unit barcode:

6001087008853

•

Case barcode:

16001087007631
All product information
Nutrition and allergens
Ingredients
Salt, radurised spices (19.5%)(coriander, paprika, black pepper, pimento, celery seed), radurised maize flour (genetically modified), monosodium glutamate [flavour enhancer, (E621)], radurised chilli, sugar, garlic powder (contains sulphur dioxide), radurised origanum, flavour enhancers (E631, E627).
Allergen Information
This product is a seasoning to be used as desired
Nutrition Information
| Typical values | Per 100 g | Per 100ml |
| --- | --- | --- |
Herbs
Cereals cont. Gluten + prods.
Umbelliferae (other)
Mustard/Mustard products
AZO Colours
Milk / Dairy products
Egg/Egg products
Refined Vegetable Oil
Corn (Maize)
Glutamate
Soybeans/Soybean prods.
Allium
Antioxidants
Sulphite (=> 10mg/kg)
Celery
Spices
Artificial Colours (other)
Wheat
Key product information
Product Description
Fine Foods BBQ Spice, 1kg
Product Code
20209632
6001087008853
16001087007631
Usage information
Benefits
• Best basic quality. • Affordable. • Reliable. • Consistent.
Storage
Store in a cool dark place. Seal properly after use for best results.
Tips
This product is a seasoning to be used as desired