Fine Foods Fruit Chutney 3kg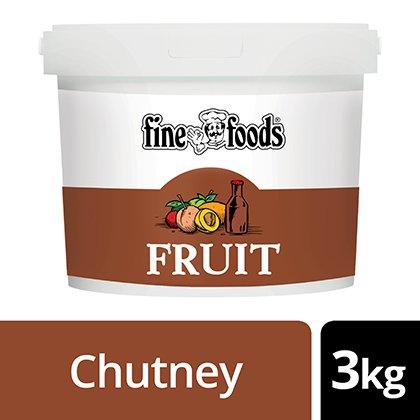 Fine Foods Fruit Chutney 3kg
Quantity
Added to cart: Fine Foods Fruit Chutney 3kg
Please select your tradepartner
Your preferred Trade Partner
Additional Trade Partners
Your preferred Trade Partner
Additional Trade Partners
Please select a tradepartner
*Indicative price: These prices are just an indication of a possible resale price of your wholesaler, included for indicative reference purposes only and also to assign loyalty points against this price. Your actual purchase price is subject to the agreement between you and your wholesaler, and could thus be lower or higher.
Read more
Quantity
Added to cart: Fine Foods Fruit Chutney 3kg
All product information
Nutrition and allergens
Ingredients
Sugar, water, vinegar, peaches (4.5%), modified maize starch (E1422) (sulphur dioxide), onions, salt, caramel colourant (E150c).
Allergen Information
This product is manufactured in a factory that processes egg, soya, wheat gluten and cow's milk
Nutrition Information
| Typical values | Per 100 g | Per 100ml |
| --- | --- | --- |
Additives
Alcohol Free
Irradiation Free
Meat Free
Cereals cont. Gluten + prods.
Sulphite (<10mg/kg)
Milk / Dairy products
Egg/Egg products
Corn (Maize)
Artificial Colours (other)
Wheat
Allium
Dietetary Information
Halal
Kosher
Suitable for vegans
Key product information
Product Code
| | |
| --- | --- |
| UFS code | 21055636 |
| Unit barcode | 6001087354981 |
| Case barcode | 26001087354985 |
Usage information
Benefits
• Cook-in sauce • Pour-over sauce
Shelf Life
12 months from date of manufacture
Storage
Store in cool dry area, once opened, refrigerate and use within 3 months
Tips
Sauce is used as is.