Knorr Classic White Sauce 1KG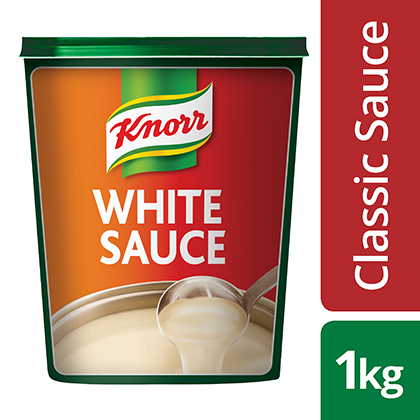 How this will help you:
Authentic: a creamy base sauce with balanced seasoning and a natural colour.
Versatile: use in pasta dishes, pour-over derivatives and bakes.
Time saving: prepare easily in 3 minutes. *Follow recommended make-up instructions.
+ See all product details
UFS code:

20215561

•

Unit barcode:

6001087009416

•

Case barcode:

16001087008249
All product information
Nutrition and allergens
Ingredients
Modified maize starch (E1422), maltodextrin, wheat flour (gluten), creamer [dextrose, maltose, maltotriose, polysaccharides, hydrogenated vegetable fat (palm fruit), casein, milk solids (whey powder), stabiliser (E481), emulsifier (E340), colourants (riboflavin, beta carotene), anticaking agent (E551)], salt, vegetable oil (palm fruit) (contains antioxidant TBHQ), potassium chloride (E508), flavouring, xanthan gum (E415), flavour enhancers (E631, E627), radurised spices, paprika extract.
Allergen Information
Contains wheat gluten and cow's milk Made in a factory that also processes: egg and soya.
Nutrition Information
| Typical values | Per 100 g | Per 100ml |
| --- | --- | --- |
| Energy kJ | 1,581.00 kJ | - kJ |
| Energy kcal | 376.43 kcal | - kcal |
| Total lipid (fat) | 6.40 g | - g |
| Protein | 3.30 g | - g |
| Cholesterol | - mg | - mg |
| Sodium, Na | 3,475.00 mg | - mg |
| Fiber, total dietary | 0.0 g | - g |
| Calcium, Ca | - mg | - mg |
| Vitamin C, total ascorbic acid | - mg | - mg |
| Iron, Fe | - mg | - mg |
| Carbohydrate, by difference | 77.00 g | - g |
| Thiamin | - mg | - mg |
| Vitamin A, IU | - IU | - IU |
| Vitamin D | - IU | - IU |
| Vitamin E | - mg_ATE | - mg_ATE |
Antioxidants
Cereals cont. Gluten + prods.
Milk / Dairy products
Egg/Egg products
Refined Vegetable Oil
Spices
Corn (Maize)
Artificial Colours (other)
Wheat