Knorr Spicy Chicken Breading
203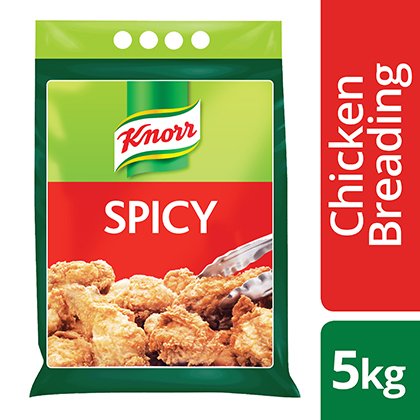 All product information
Nutrition and allergens
Ingredients
Wheat flour (gluten), salt, sugar, radurised spices (4%)(white pepper, chillies), yeast extract, hydrogenated vegetable fat (palm fruit) (contains antioxidant TBHQ), flavour enhancers (E631, E627), flavouring, radurised herbs, garlic powder (sulphur dioxide), anticaking agent (E551).
Nutrition Information
| Typical values | Per 100 g | Per 100ml |
| --- | --- | --- |
Key product information
Product Code
21165447
6001087362405
6001087362405
Usage information
Preparation
Preparation instructions for a Pressure Fryer: 1. Place drumsticks into water. 2. Remove and roll drumsticks into breading 3. Cook in a pressure fryer between 144°C - 155°C for 9 -12 minutes. Preparation instructions for a Chip Fryer: 1. Place drumsticks into water. 2. Remove and roll drumsticks into breading. 3. Deep fry at 160°C for ±13 minutes. Preparation instructions for a Combi Oven: • Set the deep fryer at 160ºC and heat the oil. • Pre-heat the oven at 170ºC. • Bread the chicken pieces. 1. Place the chicken pieces into the basket. 2. Dip the basket into the hot oil for 30 seconds. 3. Remove the basket from the oil and allow the oil to drain off the chicken. 4. Place the chicken pieces onto a baking tray. 5. Cook in the oven for 25-30 min or until cooked. 6. Remove from oven and serve. Chef's Tip: For a thicker coating, roll chicken in breading before carrying out the simple 3 step process.
Yield
1 x 5kg yields 500 x chicken drumsticks* *Based on a 100 g chicken drumstick
Benefits
• Trusted Knorr brand. • ORIGINAL and SPICY variants. • NO ADDED MSG • NO EGG MILK-WASH NEEDED. JUST DIP IN WATER to achieve tasty, crispy fried chicken. • The breading solution has a flour base. Once cooked up, it has a SOUTHERN FRIED TEXTURE and a GOLDEN BROWN colour. • ADDITION OF ROBERTSONS SPICE blend in the product, delivering great taste instead of just salt (as compared to competitors). • Product ON PAR ON TASTE with leading competitors. • Product performs BEST IN A PRESSURE FRYER (dominant apparatus); on par with competitors in a CHIP FRYER (secondary apparatus) and can also be prepared in a COMBI-OVEN. • SIMPLE 3-STEP PROCESS. • RE-SEALABLE packaging
Storage
Store in a cool, dry place.
Tips
Knorr Spicy Chicken Breading: -Use gloves when handling breading. If powder comes into contact with your eyes, rinse immediately with copious amounts of water. -For a Spicier flavour: Add 3 level tablespoons (25g) of Robertson's Peri Peri to 5kg (1 bag) of Knorr Chicken Spicy Breading.