Please select your tradepartner
Your preferred Trade Partner
Additional Trade Partners
Your preferred Trade Partner
Additional Trade Partners
Please select a tradepartner
*Indicative price: These prices are just an indication of a possible resale price of your wholesaler, included for indicative reference purposes only and also to assign loyalty points against this price. Your actual purchase price is subject to the agreement between you and your wholesaler, and could thus be lower or higher.
Read more
Add world cuisine Flavours to your menu with our range of pre-portioned Sachet Meal Solutions. Our range includes: Robertsons Thai Red Curry, Rajah Butter Chicken and Spicy Lentil Dhal. Conveniently Order Online & Save!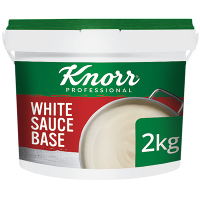 Indicative price (excl. VAT) *
Product not available.
Added to cart: Knorr Professional White Sauce 2kg
* Delivery times and fees depend on your trade partner