Please select your tradepartner
Your preferred Trade Partner
Additional Trade Partners
Your preferred Trade Partner
Additional Trade Partners
Please select a tradepartner
*Indicative price: These prices are just an indication of a possible resale price of your wholesaler, included for indicative reference purposes only and also to assign loyalty points against this price. Your actual purchase price is subject to the agreement between you and your wholesaler, and could thus be lower or higher.
Read more
Unilever Food Solutions Product Portfolio - Products created by Chefs, for Chefs!
92
552
Chef Reward Points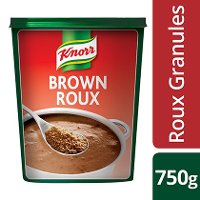 Indicative price (excl. VAT) *
Product not available.
Added to cart: Knorr Brown Roux Granules
* Delivery times and fees depend on your trade partner