Honey & Soy Chicken, Noodle Stir-Fry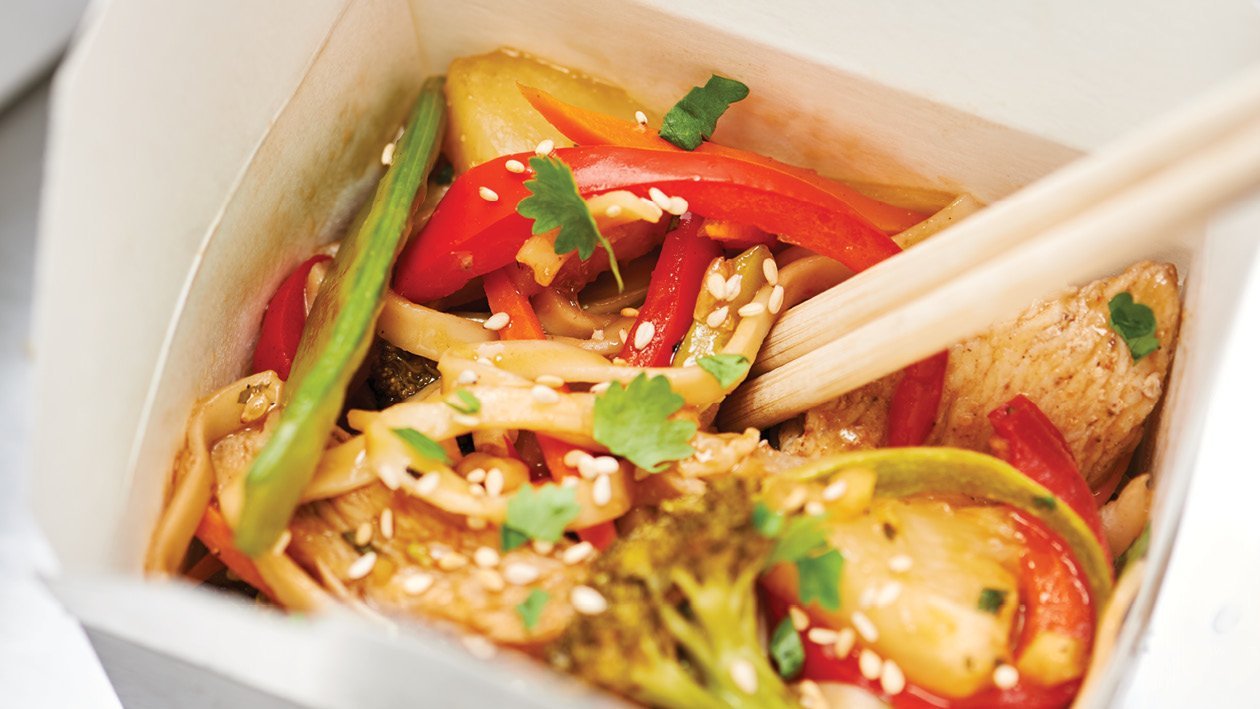 Ingredients
To Prep:
Ginger, finely chopped

30 g

Snow peas/ Mange tout

80 g

Pineapple pieces, tinned

100 g

Coriander, fresh, chopped for garnish

10 g

Sesame seeds (toasted)

10 g
To Cook:
Preparation
To Prep:

Finely chop the fresh ginger.
Mix the chopped ginger with the Knorr Honey & Soy Sauce, then set aside.
Cut the chicken breasts into strips.
Season the chicken strips with the Knorr Aromat and Robertsons Chicken Spice.
Slice the onion julienne style.
Julienne the carrots, red pepper, baby marrow and snow peas.
Cut the larger broccoli florets smaller.
Drain the tinned pineapple and keep the juice.
Finely chop the coriander.
Cook egg noodles as per packaging instructions.
Heat a pan and toast the sesame seeds, remove and keep aside.

To Cook:

Heat a wok or flat top griller, add half the oil and stir-fry the chicken strips.
Set aside when cooked.
Add the rest of the oil to the hot wok/flat top griller and stir-fry all the vegetables; keep them crispy.
Add the chicken, pineapple pieces and noodles to the vegetables.
Add the Knorr Sweet & Sour Sauce, pineapple juice and Knorr Honey & Soy Sauce (containing the ginger), and toss together.

To Serve:

Top with freshly toasted sesame seeds and freshly chopped coriander.

Top Tip:

Substitute tinned pineapple pieces with left over fresh pineapple. For a vegetarian option, remove the chicken and add baby corn and cabbage.