New York Beef Burger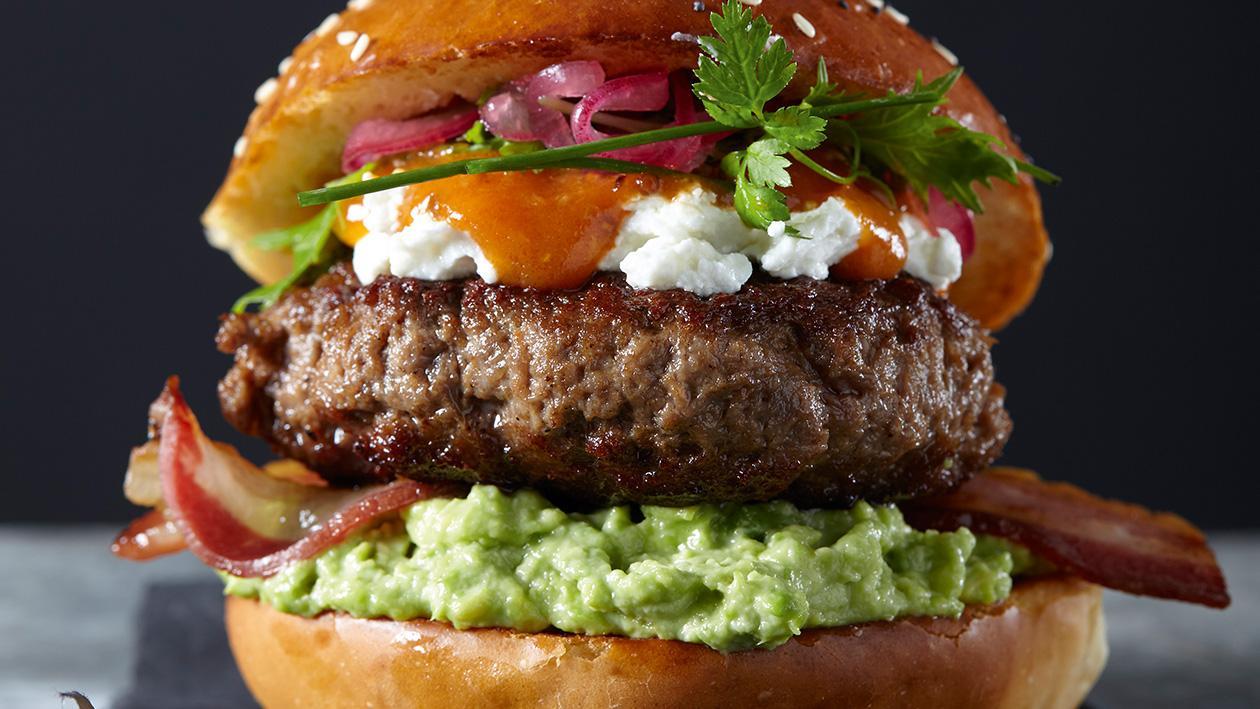 Ingredients
Burger:
Onions, red(thinly sliced)

200 g

Beef, minced(125g per burger)

500 g

Onions(finely diced)

25 g

Parsley, fresh, chopped(chopped)

2 g

Eggs, large (class A)

1 pc
To make the dressing:
Avocado(2 in no mashed)

2 pc

Lemon juice, fresh pressed

15 ml
To assemble the burger:
Goats Cheese(crumbled)

80 g

Salad pack (lettuce)(mixed herbs salad leaves)

40 g

Streaky bacon(2 strips per portion, grilled)

300 g
Preparation
Burger:

Mix the red onion and rice vinegar together and allow to marinate for 30minutes.
In a bowl, mix together the beef mince, Knorr Beef Stock Granules, Robertsons Barbecue Spice, diced onion, chopped parsley, dried breadcrumbs and egg. Divide into 4 portions and shape into burger patties.

To make the dressing:

In a bowl, mix together the Hellmann's Original Mayonnaise, peppadews and Knorr Sweet Chilli Sauce.
Slice the 4 burger buns open and toast.
Mix the mashed avocado and lemon juice together.

To assemble the burger:

Place the avocado on the base of the burger with the grilled streaky bacon and beef patty.
Top the burger with the goat cheese, dressing, marinated red onion and mixed salad leaves.