Paprika Flavored Norwegian Seared Salmon with Caramelized Red Peppers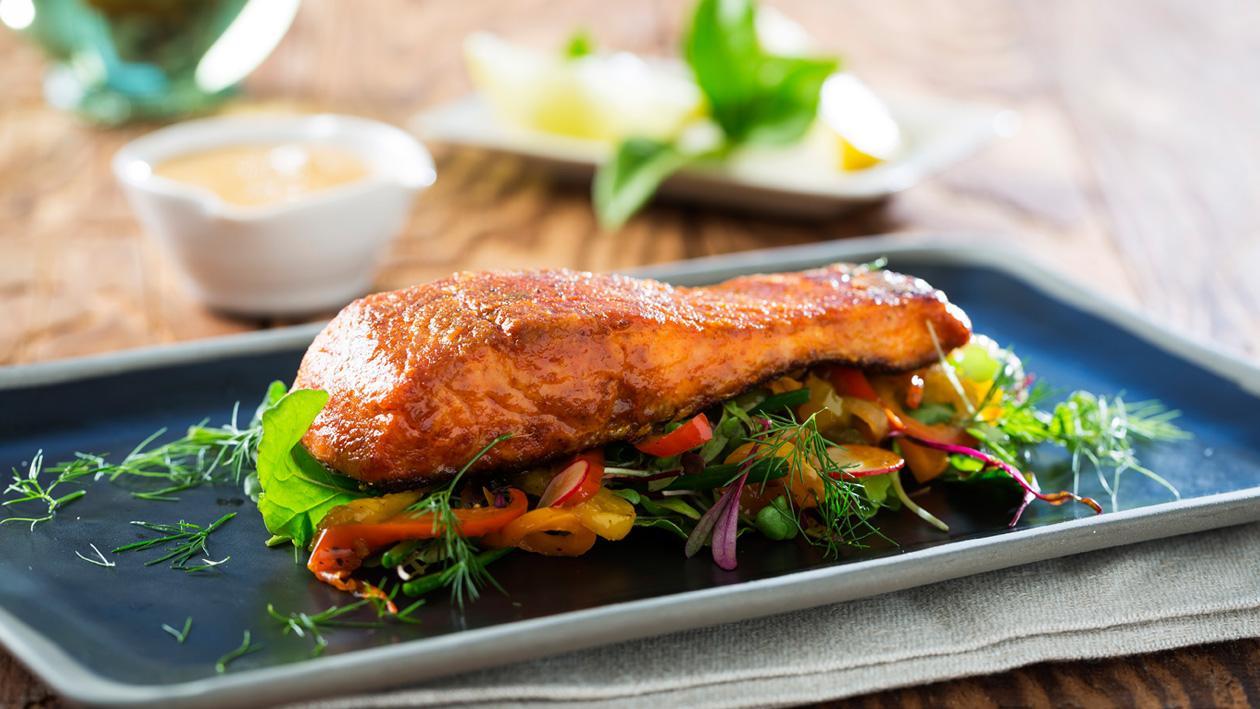 Ingredients
Four Mix:
Batter Salmon:
Salmon steak(1 piece fresh Norwegian salmon with skin)

300 g
Plating:
Coriander, fresh, chopped for garnish

35 g
Preparation
Four Mix:

Mix flour, ½ teaspoon paprika, salt, dill & fish spice together and place one side.
Take 2 tblsp of paprika and rub the entire salmon so that it is completely covered with paprika.

Batter Salmon:

Take the salmon and place it in the flour mix and cover it completely in the flour mix.
Cover a frying pan with a little olive oil and fry the flour covered salmon until al dente.
Now take out the salmon and put it on one side, take the butter and melt it with the left over sauce in the pan then add the cream, fresh coriander and squeezed lemon then seer everything together. Place the sauce aside after you finished.

Plating:

Take the two red peppers and take out all the seeds and slice it in to long slices and also the onion sliced and not chopped. Fry the peppers and onion together and add the sugar, salt and pepper for flavor until it is nice and glossy. Place it in the middle of the plate and put the salmon on top of the sweet peppers and topped it with the creamy paprika red sauce on top. You can garnish with some fresh sliced lemon and coriander.