Paprika Pistachio Biscuts
Combines beautifully with a mango gel, coconut and chocolate. With paprika and turmeric, this dessert combines savoury with sweet in an unusual way.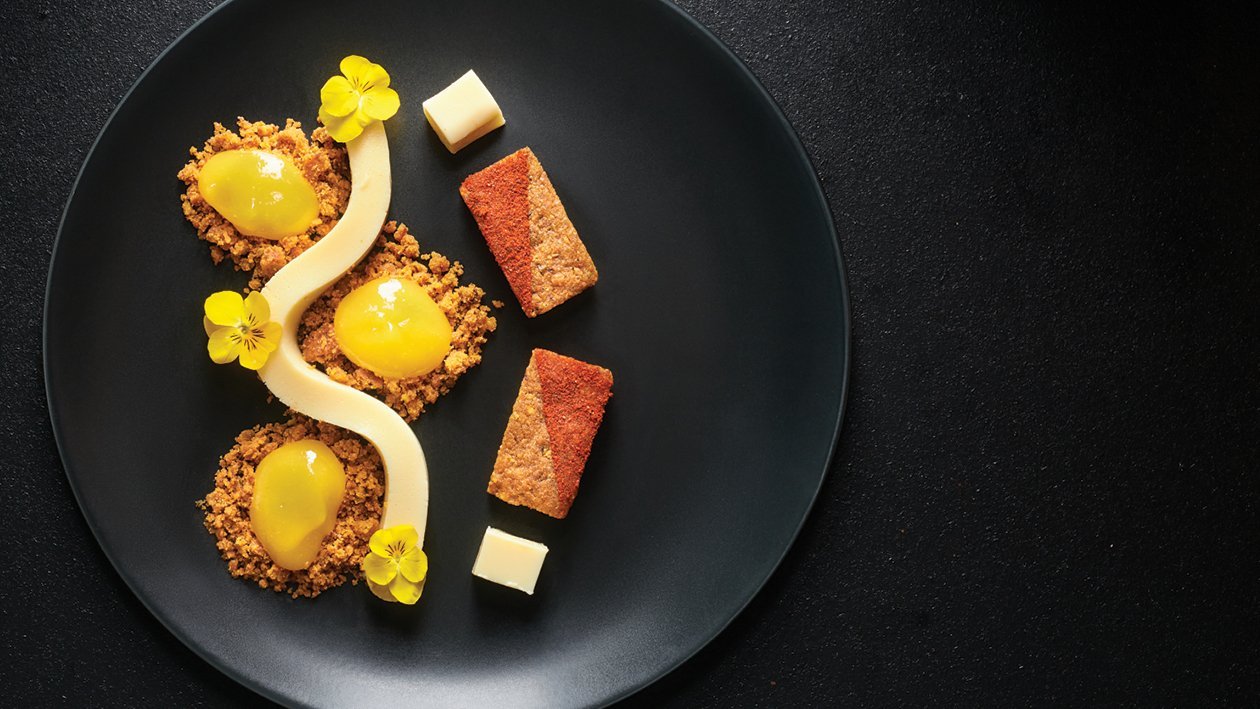 Ingredients
Pistachio and Paprika Biscuts
Pistachio nuts (peeled, roasted, salted and ground in food processor)

200 g
Mango Gel
Mango slices with syrup

1 Tin

Ginger (fresh, grated)

10 g
Flexible Chocolate
Gelatine powder (bloomed in a little water)

12 g
Preparation
Pistachio and Paprika Biscuts

Place the pistachios, flour, Robertsons Paprika, sugar and butter in a bowl. Work the mixture until you have a crumb consistency. Bake in the oven for 20 min at 180 °C, stirring halfway through. Remove from oven and allow to cool.
Once at room temperature, place the pistachio crumb in a food processor along with the egg whites and pulse until the mixture comes together.
Press mixture into biscuit moulds and bake again for another 20 min. Cool before removing from the mould,set aside.

Mango Gel

Blend mango slices,Robertsons Turmeric and ginger until smooth. Place into a pan and add sugar, honey and agar agar. Bring to a boil and simmer for 2 min. Allow to cool and set, then blend until smooth and sieve.

Flexible Chocolate

Add all the ingredients to a saucepan and bring to a simmer. Simmer for 2 min, then blend. Place into an empty ice cream container and refrigerate for at least 3 hours to set. Gently remove from container once set and cut into long strips.

To Plate:

Place flexible chocolate onto a plate. Garnish with pistachio biscuits and mango gel.