Quinoa Salad With Marinated Chicken and Vegetables
This delicious chicken salad is made from a base of tomato, onion, feta cheese and quinoa, a grain so packed with nutrients that it's been called a super food and a Future 50 ingredient. Healthy and tasty, this salad will tick all the boxes.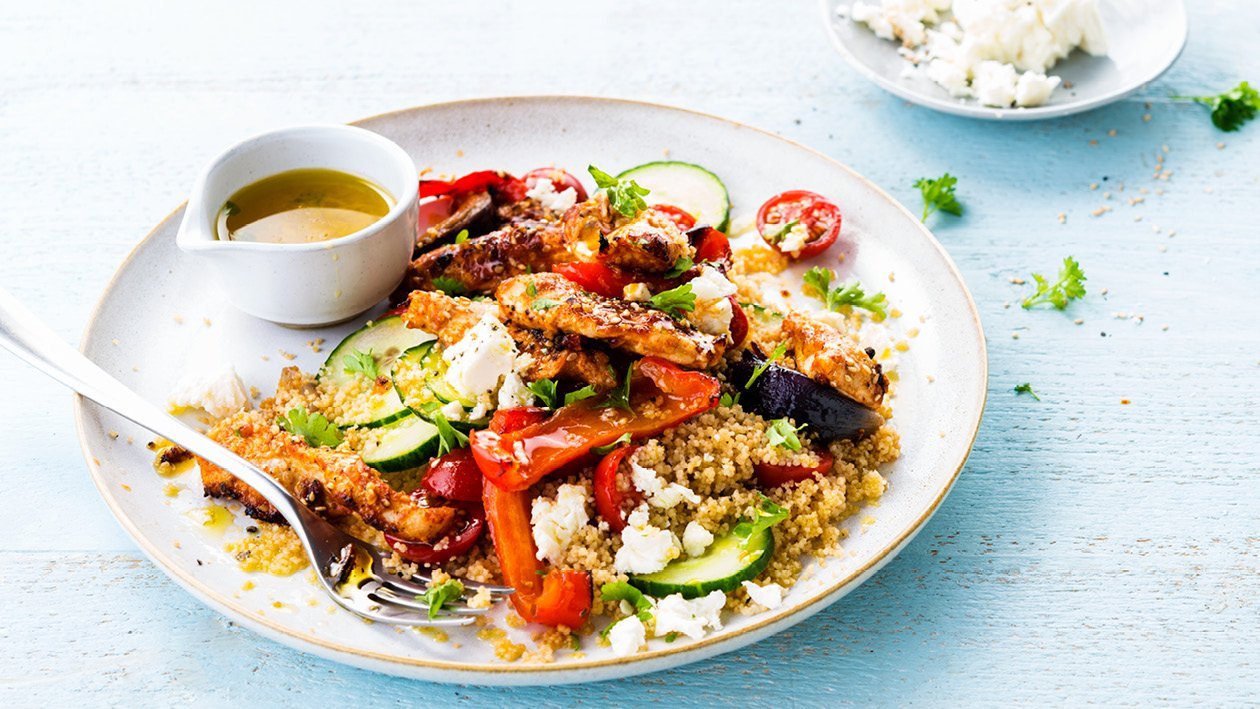 Ingredients
Method:
Chicken breast fillet (cut into thin strips)

1200 g

Red Peppers, cut into strips

4 pc

Red Onion, cut into quarters

1 pc

Lemon (zest and juice)

1 pc

Cherry tomatoes (rinsed and halved)

150 g

Quinoa, prepared as per packet instructions

250 g

Parsley (finely chopped)

15 ml
Preparation
Method:

Pre-heat the oven to 180 °C. Spoon the Knorr Professional Chicken Stock Granules in a bowl, add the Knorr Aromat Naturally Tasty and mix with 2 tablespoons of oil. Add the chicken, red pepper, sesame seeds and onion to the bowl and mix well. Marinate the mixture for 10 min. Place on a oven tray and bake for 15 min.

Mix the lemon zest and juice. Add the honey, salt, 3 tablespoons of oil and the Robertsons Veggie Seasoning, whisk well.

Add a tablespoon of dressing to the cucumber and tomato, then mix the leftover dressing with the cold quinoa.

Spoon the quinoa onto a large plate. Spoon the cucumber and tomato on top and then the oven-baked chicken mixture. Top the salad with the feta cheese and parsley.