Yummy Chicken Gatsby
This Gatsby (sandwich) is jam-packed with deliciousness - spicy chicken strips, golden French fries and mayo in crunchy French bread - a lunch to remember!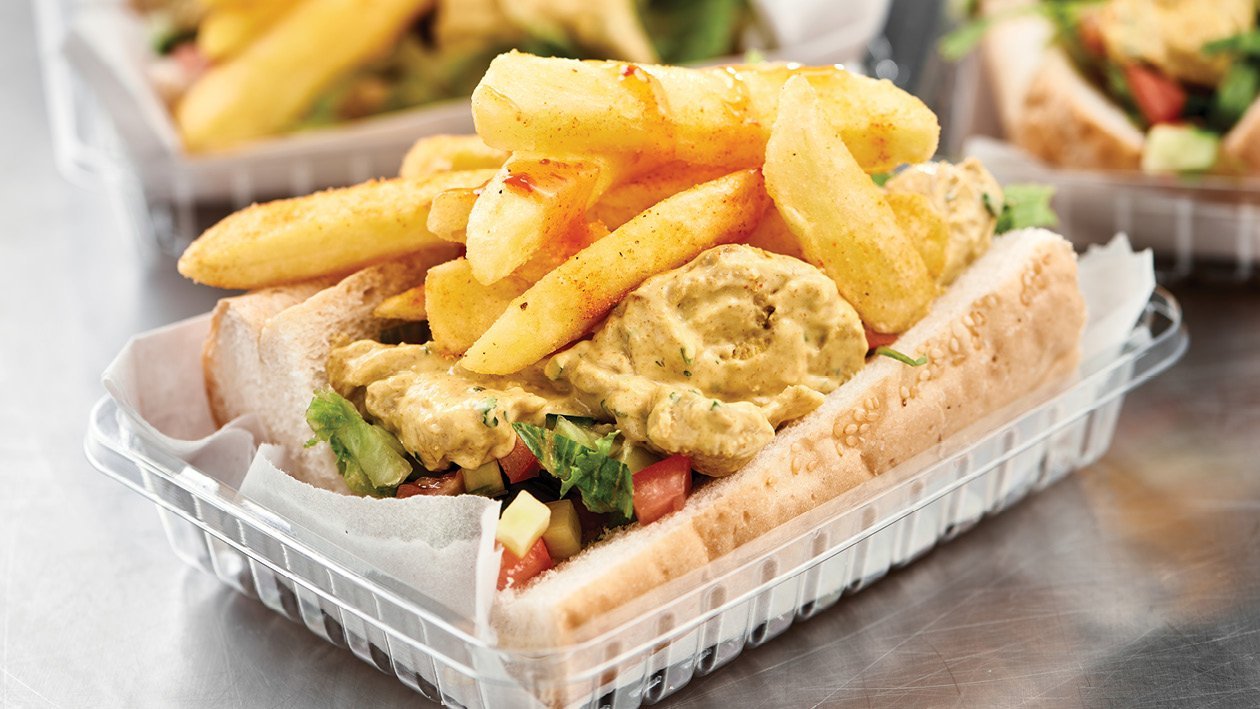 Ingredients
Preparation:
1 kg Chicken breast fillet (cut into thin strips)

Coriander (finely chopped)

10 g

500 g Medium sized tomatoes (cut into cubes)

400 g Cucumber (cut into cubes)

100 g Onion (diced into small cubes)

French fries, frozen

1 kg

Oil, heated in a deep fryer to 180°C

2 ea French bread loaves (foot long, avg weight 395 g)
Preparation
Preparation:

Mix the chicken strips, Robertsons Medium Rajah, Knorr Aromat, ground cumin and oil together to coat chicken. Fry chicken in a pan until cooked.
Add the Hellmann's Tangy Mayonnaise and corianderto the fried chicken and mix together.
Mix the salad ingredients (tomatoes, onion, cucumber and onion) together.
Deep fry the chips until crisp and drain them on a roller towel to soak up extra oil. Sprinkle with Robertsons Chip & Potato Seasoning.
Cut each French loaf into 5 equal portions, then cut the bread open but not all the way through. Take a spoonful of the salad mix and place a layer in the roll, followed by a spoonful of the chicken mix, followed by the deep fried chips and then a squeeze of Knorr Sweet Chilli Sauce.
Wrap in greaseproof paper and package in a sandwich container.

Chef's Tip:

Replace the chicken with beef strips or turn it into a veggie Gatsby by adding roasted vegetables. Instead of using French loaves, use quarter loaves and fill with same suggested fillings.

Hint:

Always make sure the spoons, pans and bowls are clean before use.