Glazed Barbeque Roasted Root Vegetables With Fresh Herbs
This healthy dish tastes as good as it looks. Made with mini beetroot, parsnip, carrots, and red onion, drizzled with a balsamic vinegar dressing and scattered with fresh walnuts, this ode to root vegetables is a showstopper and crowd pleaser.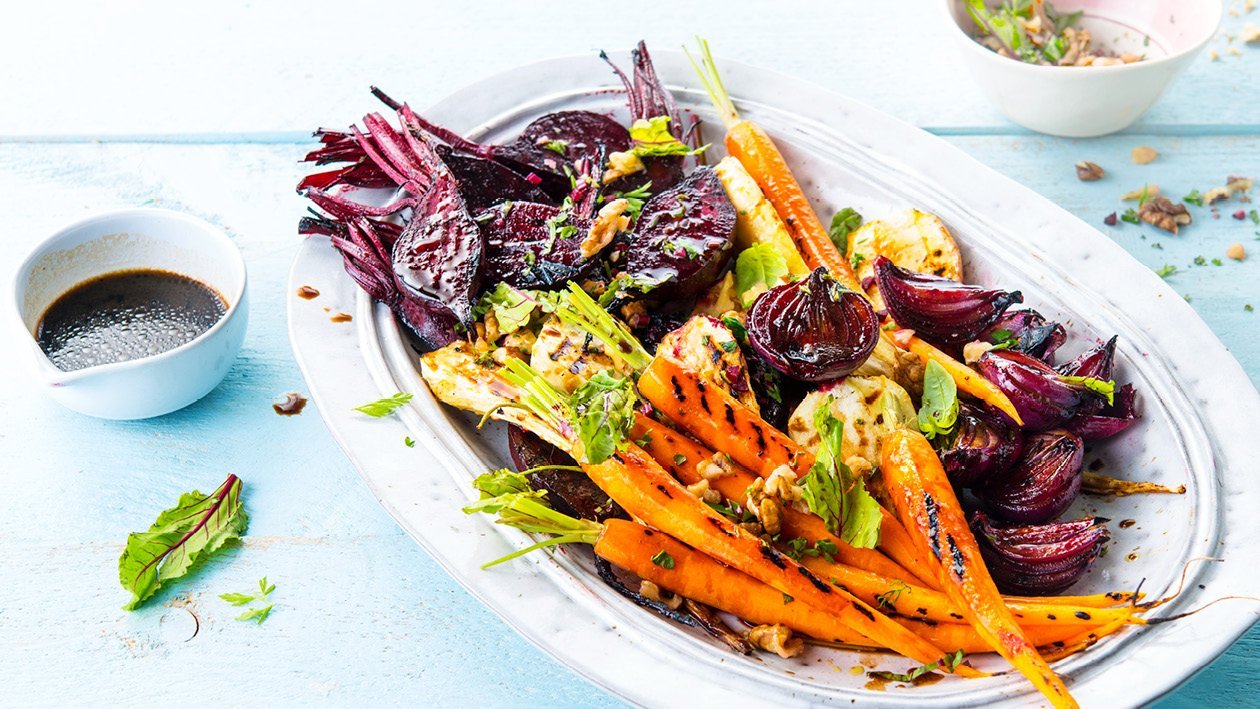 Ingredients
Method:
Mini beetroot (with leaves, washed)

200 g

Red onions (peeled and quartered)

200 g

10 g Fresh herbs like parsley, celery, chives and/or basil (chopped)
Preparation
Method:

Pre-heat a grill to 150 °C.
Chop the ends of the root vegetables and separate the beetroot leaves from the beetroot. Then cut the beetroot in half as well as the parsnips.
Finely chop the beetroot leaves and set aside with the chopped herbs.
Grill the vegetables, low and slow until caramelised.
Allow to cool and cut into chunks.
Add the vegetables to a pan (wide enough to accommodate the pieces in a single layer) with a splash of oil.
Add the balsamic vinegar, honey, Robertsons Veggie Seasoning and a splash of water.
Start checking if they're cooked after about 5 min, depending on the vegetable.
Remove from the heat when almost all the liquid has evaporated, the vegetables are cooked and there's a shiny glazed coating.
Mix the vegetables with the beetroot leaves and sprinkle some finely chopped herbs and walnuts on top to give a bit of colour, freshness and crunch.

Chef's Tip:

Eat warm or even cold with some goat's cheese, lentils or other grains.