Pulled Chicken Slaw Sandwich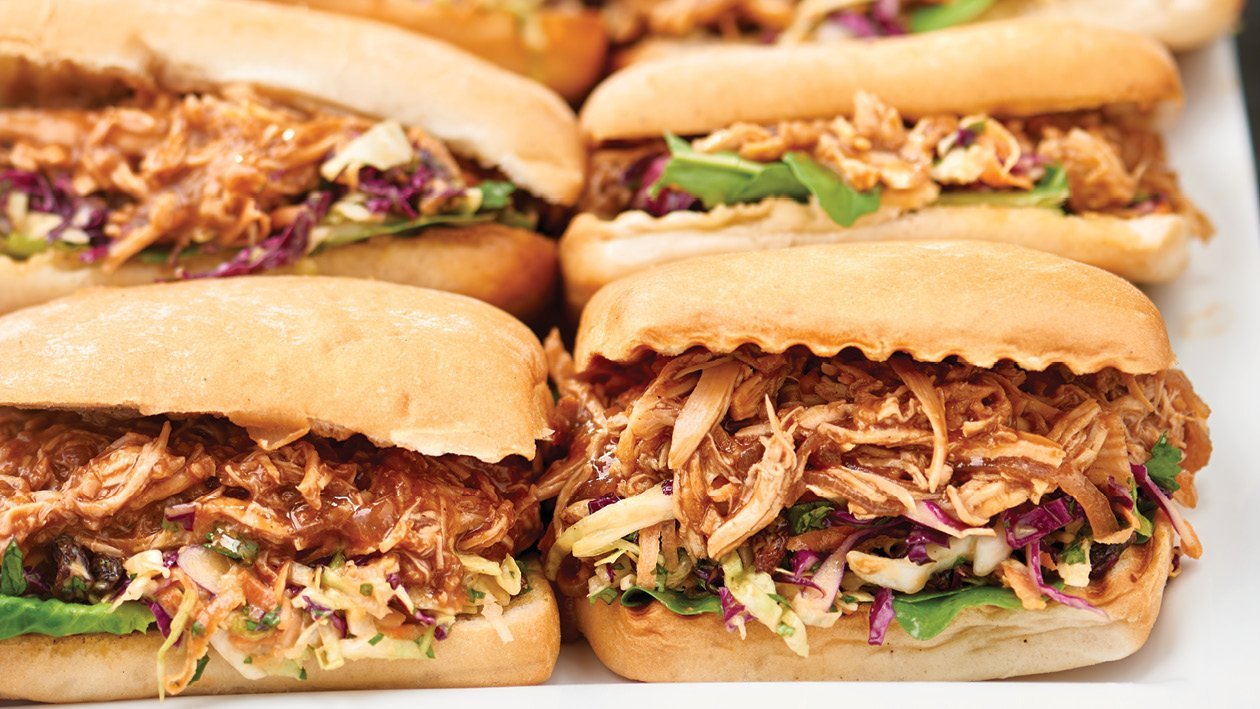 Ingredients
Slaw:
Coriander, fresh, chopped for garnish

10 g
Paninis:
Pulled Chicken & Barbeque Sauce:
To Cook:
Apple cider vinegar

540 ml
To Assemble:
Preparation
To Prep:

Slaw:

Chop the fresh coriander.
Finely slice the red cabbage.
Finely slice the green cabbage.
Julienne the carrots.
Mix all ingredients together to make a slaw.

Paninis:

Cut paninis in half.
Mix Robertsons Veggie Seasoning and butter, spread on both sides.

Pulled Chicken & Barbeque Sauce:

Thinly slice the onion.
Crush the garlic.

To Cook:

Heat 15 ml oil in a large saucepan over medium - high heat. Add onion and garlic, and cook, stirring often, until onion is translucent, add in bay leaves, Fine Foods Barbecue sauce, vinegar and water (1.125 l).
Bring to boil. Reduce heat to low and cook, stirring occasionally, until liquid is slightly reduced for 15 – 20 minutes.
Meanwhile, heat oil in a medium pan over mediumhigh heat. Season chicken with robertsons chicken spice and cook until browned. Add water to pan, and bring to a boil and reduce heat to low, cover pan, and cook until cooked through for 30 minutes. Pull chicken apart by shredding with two forks. Add chicken to barbecue sauce and toss to coat.
Toast the panini halves on a griddle pan.

To Assemble:

Place the bottom half of the toasted panini on a plate, rocket on top followed by 144 g slaw, 100 g pulled chicken and cover with the top panini half.

To Serve:

Wrap in wax paper and serve as an on-the-go option.

Top Tip:

When cooking the barbecue sauce, ensure that the heat is turned down to low or else the water will reduce and you will have to add more water and this will dilute the flavour of the sauce.