Pulled Pork Burger
A mouthwatering pulled pork burger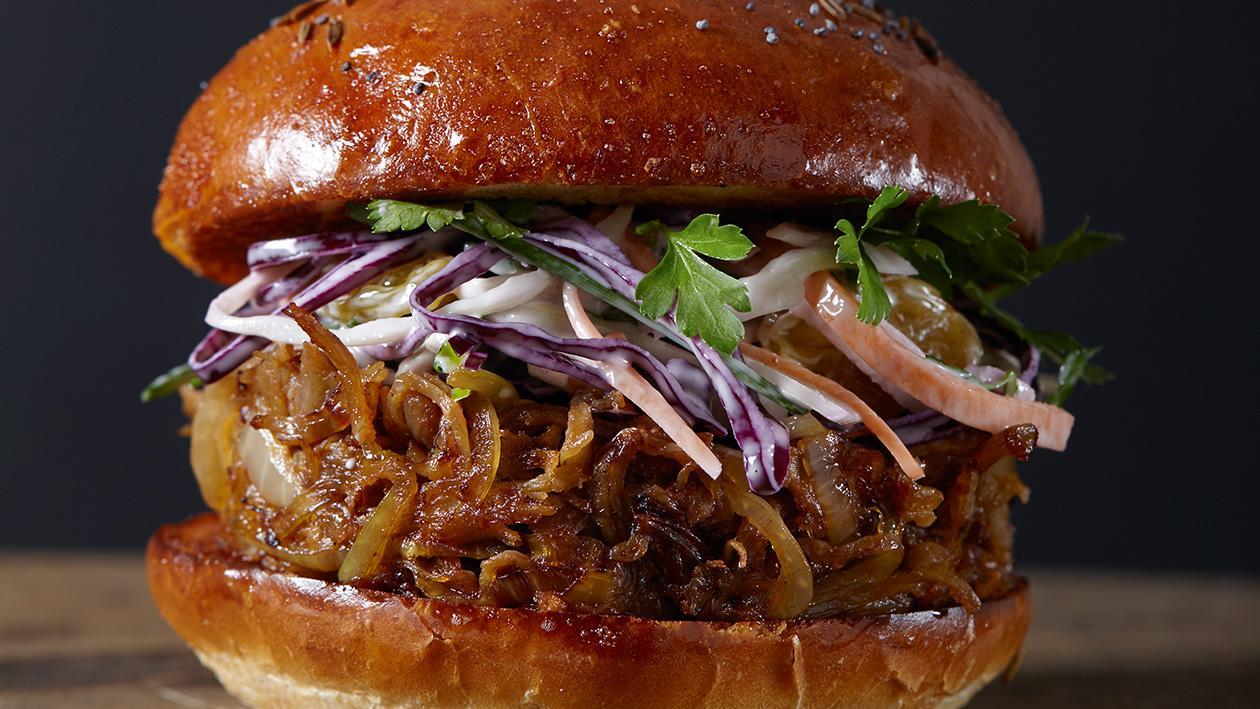 Ingredients
Pulled Pork Patty:
Pork, neck w/o bones(rindless – allow 125 g slow-cooked, shredded pork per portion)

1 kg

Onion (chopped, fried)

100 g
To Make the Dressing:
Cabbage, white(thinly shredded)

50 g

Cabbage, Red(thinly shredded)

50 g

Cooking apple(grated)

1 pc

Sultana raisinsdried seedless

25 g
To Assemble the Burger:
Parsley, fresh, choppedflat leaf for garnishing

22 g
Preparation
Pulled Pork Patty:

Mix together the rub ingredients for the slow-cooked pork, oil, Robertsons Barbecue Spice, Robertsons Veggie Seasoning, Robertsons Paprika and Knorr Sweet Chilli Sauce, and rub over the pork. Place in a roasting dish and pour in 300 ml of water. Cover tightly with foil and roast in a preheated oven for 3 hoursat 160°C.
Once the pork has cooked, remove and pouroff the remaining liquid, Skim off any excess fat and bring 100ml of the liquid to the boil. Add the Knorr Jus, whisk and simmer for about 6 – 10 minutes to reduce. Shred the pork while warm.
Sauté the sliced onion until soft and caramelised.
In a bowl, mix the caramelised onion and 500 g of the cooked shredded pork, and add the reduced jus glaze to bind the mixture.
While the pork is roasting, prepare the coleslaw

To Make the Dressing:

In a bowl, mix together the shredded white and red cabbage, carrot, apple and sultanas, and bind with the Hellmann's Original Mayonnaise.
Slice the 4 burger buns open and lightly toast.
Divide the shredded pork into 4 portions and shape into burger patties, then lightly fry in a pan.

To Assemble the Burger:

Place the pulled pork on the base of the burger with the coleslaw.
Garnish with flat-leaf parsley.