Rooibos Carrot Cake
Sweet, spicy and satisfying, this moist carrot cake, infused with the nuttiness of Rooibos, is somehow both exotic and comforting. This decadently rich teatime treat is cinnamon, spice and everything nice.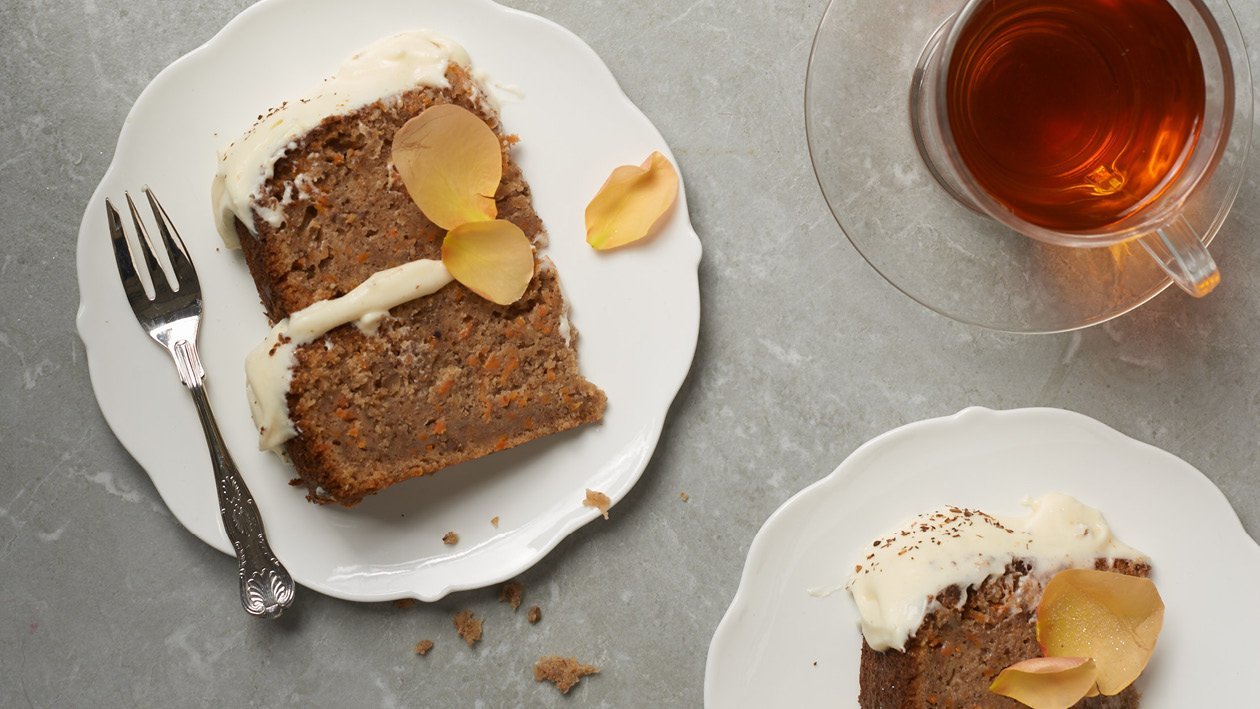 Ingredients
Carrot Cake:
Lemon zest & juice

240 ml

Carrots (peeled and grated)

600 g

Ginger (fresh, grated)

10 g

Eggs, large (class A)

8 pc
Cream Cheese Frosting:
Vanilla extract / essence

5 ml

Garnish Rose petals, chopped walnuts, edible glitter and Joko Rooibos leaves

Butter (room temperature)

200 g
Preparation
Carrot Cake:

Pre-heat the oven to 160 °C. Grease 2 baking tins.
Open the 4 teabags and add the contents to the lemon juice and allow to infuse for 30 minutes.
Add the carrots and mix well.
Sift the flour, baking powder and Robertsons Cinnamon and add to the carrot mixture. Add the sugar, ginger and salt. Next, add the oil and the eggs (one at a time). Add the walnuts and mix until well combined (don't overmix).
Pour the mixture into the cake tin/pan and bake for approximately 50 minutes or until done. Remove the cake from the cake tin and allow to cool completely.

Cream Cheese Frosting:

To make the cream cheese frosting: cream together the butter and cream cheese until smooth in consistency. Add the vanilla extract and slowly start adding the icing sugar a little at a time until the mixture is well combined. Place covered in a refrigerator for at least 1 hour before decorating the cake.

To Assemble:

Place a layer of cake on a cake stand, spread with the cream cheese frosting then place a 2nd cake layer on top followed by the frosting. Garnish with rose petals, chopped walnuts, a dusting of edible glitter and a scattering of Joko Rooibos leaves.