Garlic Prawns on Sauteed Tumeric Noodles with a Lemongrass, Chilli and Lime Dressing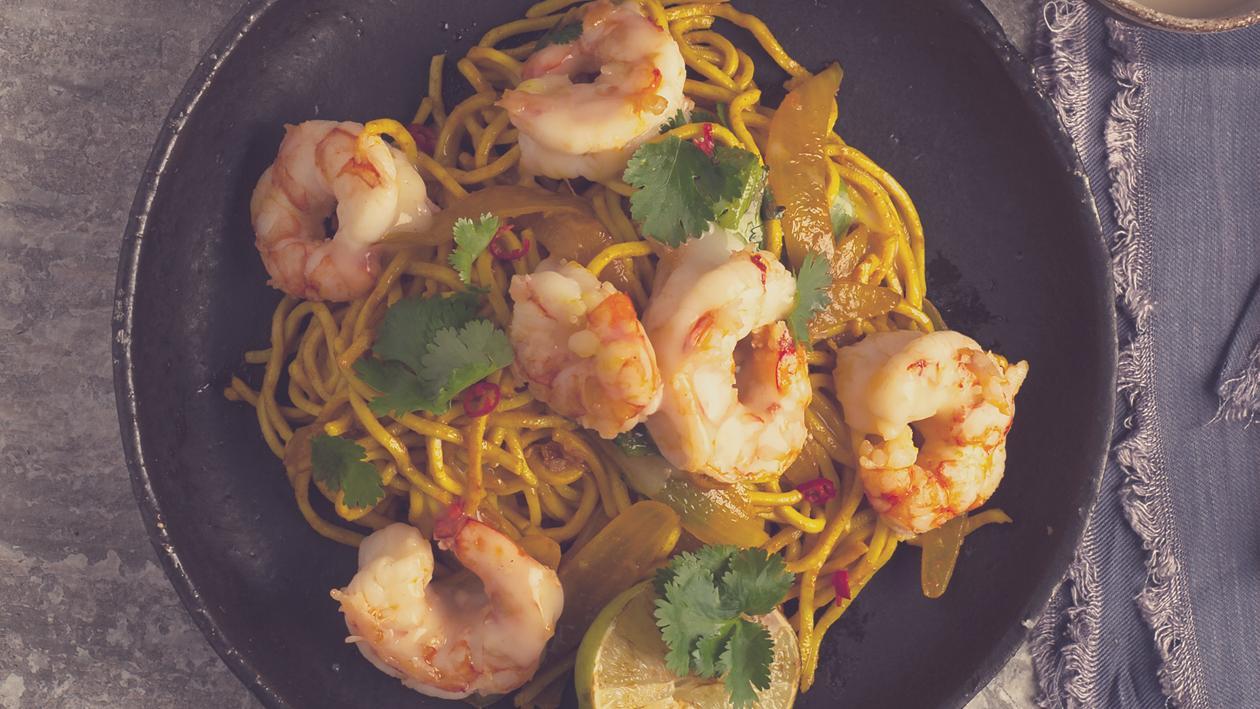 Ingredients
Turmeric Noodles:
50g onion, cut into petal shapes

Coriander, fresh, chopped for garnish

10 g
Lemongrass, Chilli adn Lime Dressing:
Hellmann's Signature Vinaigrette

75 ml
Garlic Prawns:
Preparation
Turmeric Noodles:

Pour boiling water over the noodles and allow to stand for 30 minutes.
In a saucepan, heat the oil. Add the onion petal and cook till soft.
Add the ginger and turmeric and cook out for 4-5 minutes. You might have to add a little water to the pan so as to cook turmeric and not to burn.
Drain the noodles and add to the pot, stir and keep warm.
Add the spring onions and coriander.

Lemongrass, Chilli adn Lime Dressing:

In a bowl, add the lemongrass and Hellmann's Vinaigrette and mix with spoon, allowing flavours to infuse.
After 10 minutes, strain. Reserve liquid.
Add chilli, lime juice and sugar to be the infused Hellmann's Signature Vinaigrette.

Garlic Prawns:

In a pan, heat the butter and add the prawns.
Add the garlic and baste the prawns until fully cooked. Remove the prawns from the pan and pour the remaining juices into the noodles,

To assemble:

Pour the Hellmann's Lemongrass, Chilli and Lime Dressing into the warm turmeric noodles.
Place noodle salad in a bowl, top with garlic prawns.
Garnish with grilled lime wedge and coriander.