Falafel Red Slaw Salad
Crunchy falafels on a bed of tangy slaw - a healthy lunch or light dinner option packed with flavour!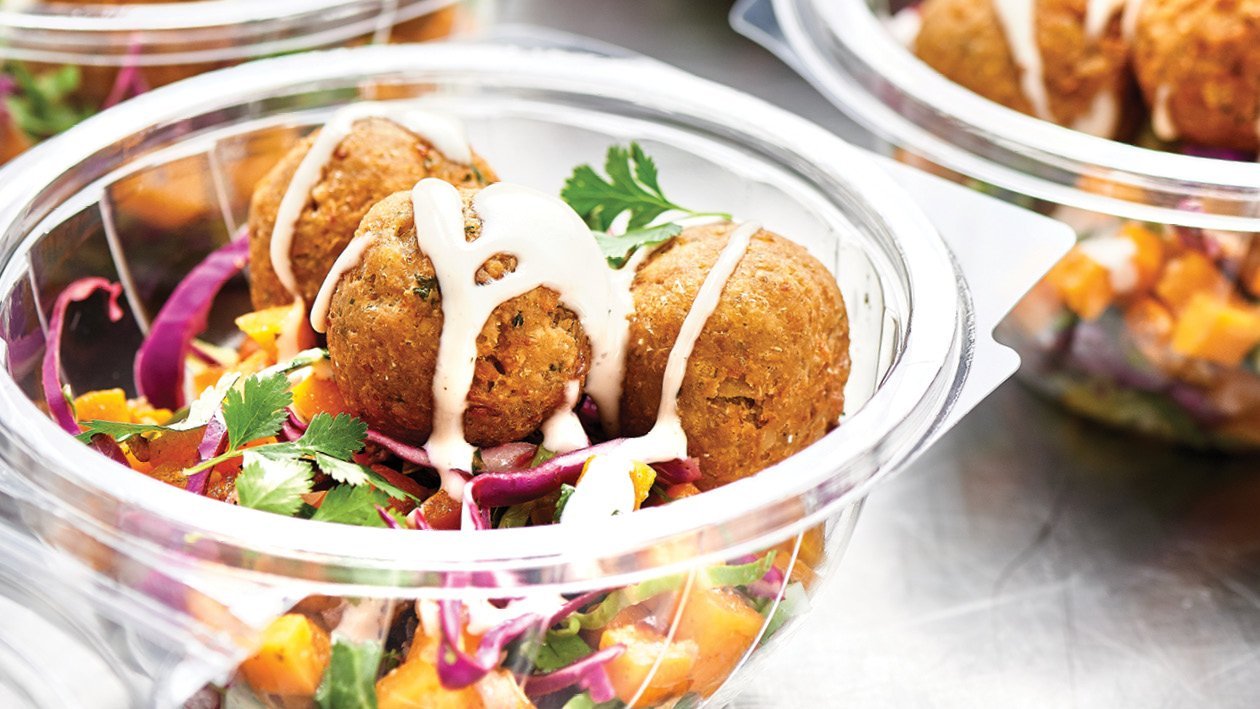 Ingredients
Preparation: Falafel
Oil (as required for deep fryer)

Chickpeas (drained and rinsed)

500 g

Fresh garlic (finely chopped)

13 g

Onions (roughly chopped)

100 g

Parsley (washed and chopped)

20 g
Preparation: Red Slaw
300 g Butternut (cubed 1 cm x 1 cm)

Red onion (finely chopped into cubes)

100 g

Red cabbage (shredded)

100 g

White cabbage (finely sliced)

150 g

Fresh coriander (roughly chopped)

15 g
Preparation
Preparation: Falafel

For the falafel, pre-heat oil in a deep fryer to 180 º C. In an electric mixer, put all the falafel ingredients (up to and including fresh parsley) in the bowl and mix until it resembles breadcrumbs and is not too sticky. Roll mixture into 20 g balls. Deep fry until light brown.

Preparation: Red Slaw

For the red slaw, pre-heat oven to 180 ºC. On a roasting tray, toss the butternut, red onion, sunflower oil and Robertsons Veggie Seasoning and roast in the oven for 20 min.
In a bowl, combine the rest of the remaining ingredients (except for Hellmann's Creamy Ranch Dressing) and mix well. Add roasted butternut mixture.

To Assemble:

Place the prepared falafels on the slaw mix and pour Hellman's Creamy Ranch Dressing over the falafel slaw salad. Can be served as a main dish or as a side salad.

Chef's Tip:

Moisten hands with oil to roll the falafel balls to prevent sticking.