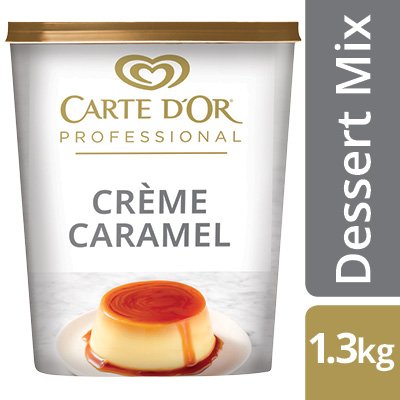 CARTE D'OR Creme Caramel is a creamy, classic custard dessert that Chefs can make quickly and easily. CARTE D'OR Caramel sets perfectly every time,* helping Chefs to make consistent, reliable desserts. * Follow recommended recipe instructions.
+ See all product details
UFS code:

11385

•

Unit barcode:

6001087307444

•

Case barcode:

16001087306048
All product information
Nutrition and allergens
Ingredients
PUDDING: Sugar, gelatine (beef) (sulphur dioxide), modified potato starch, flavouring, thickener, salt, colourants, caramel colourant. SAUCE: Sugar, dextrose, cornflour, thickener, flavouring, salt, colourants.
Allergen Information
Contains soya. Made in a factory that contains cow's milk, egg and wheat gluten.
Nutrition Information
| Typical values | Per 100 g | Per 100ml |
| --- | --- | --- |
| Energy kJ | 1,618.00 kJ | - kJ |
| Energy kcal | 380.24 kcal | - kcal |
| Total lipid (fat) | - g | - g |
| Protein | 2.70 g | - g |
| Cholesterol | - mg | - mg |
| Sodium, Na | 529.00 mg | - mg |
| Fiber, total dietary | 1.0 g | - g |
| Calcium, Ca | - mg | - mg |
| Vitamin C, total ascorbic acid | - mg | - mg |
| Iron, Fe | - mg | - mg |
| Carbohydrate, by difference | 93.00 g | - g |
| Thiamin | - mg | - mg |
| Vitamin A, IU | - IU | - IU |
| Vitamin D | - IU | - IU |
| Vitamin E | - mg_ATE | - mg_ATE |