Aubergine Parmigiana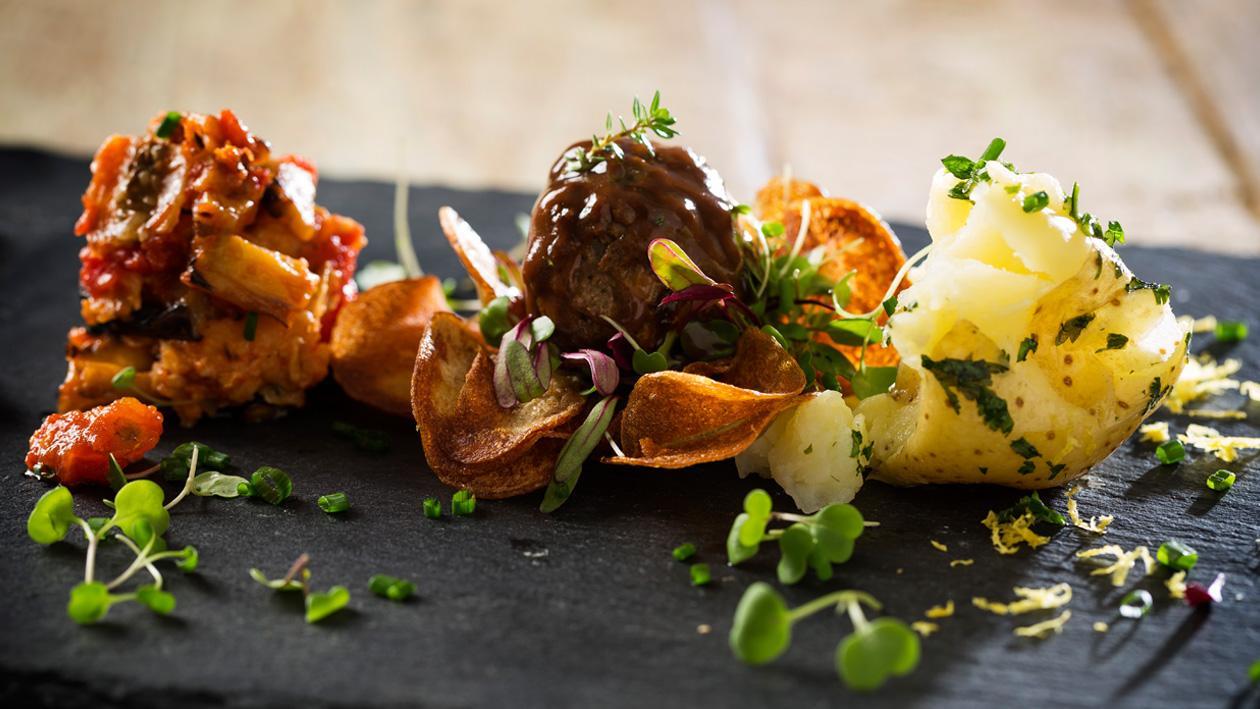 Ingredients
Aubergine:
Olive oil, extra virgin

290 ml

Cheese, Cheddarwhite or mozzarella

300 g
Turkish Style Meatballs on Lemon Crushed Potatoes:
Onions, finely chopped

222 g

Lemon(segments of 2 lemons)

4 pc

Eggs, large (class A)

2 pc

Coriander, fresh, chopped for garnish

59 g
Preparation
Aubergine:

Wash the aubergines thoroughly, slice them and place them in a colander placed in the sink or over a bowl. Sprinkle them with salt and let them rest for 20 mins.
Wash the aubergines and pat dry. Heat the oil in a large frying pan and cook the aubergines on both sides till soft.
Spoon some of the tomato pronto into a baking dish. Add a layer of aubergine. Sprinkle with veggie seasoning.
Cover the aubergines with some parmesan cheese and white cheddar. Continue layering, aubergine, veggie seasoning, tomato pronto and parmesan and end with remaining cheese.
Bake in preheated oven at 200C until the top is crispy and cheese has melted.

Turkish Style Meatballs on Lemon Crushed Potatoes:

Mix together mince, onions, veggie seasoning, breading, breadcrumbs, egg, lemon zest, cumin and fresh coriander.
Roll into balls and place in an oven tray.
Sprinkle with olive oil and roast @ 180C till firm ( about 20 mins)
Boil baby potatoes in well salted till cooked through.
Drain water. Break potatoes with a fork.
Stir in lemon segments, coriander and olive oil.
Grind salt and serve with hot meat balls and aubergines.