Mango Chicken Couscous Salad
This delicious chicken couscous salad combines the tropical flavours of mango and red pepper to deliver a healthy boost of vitamins.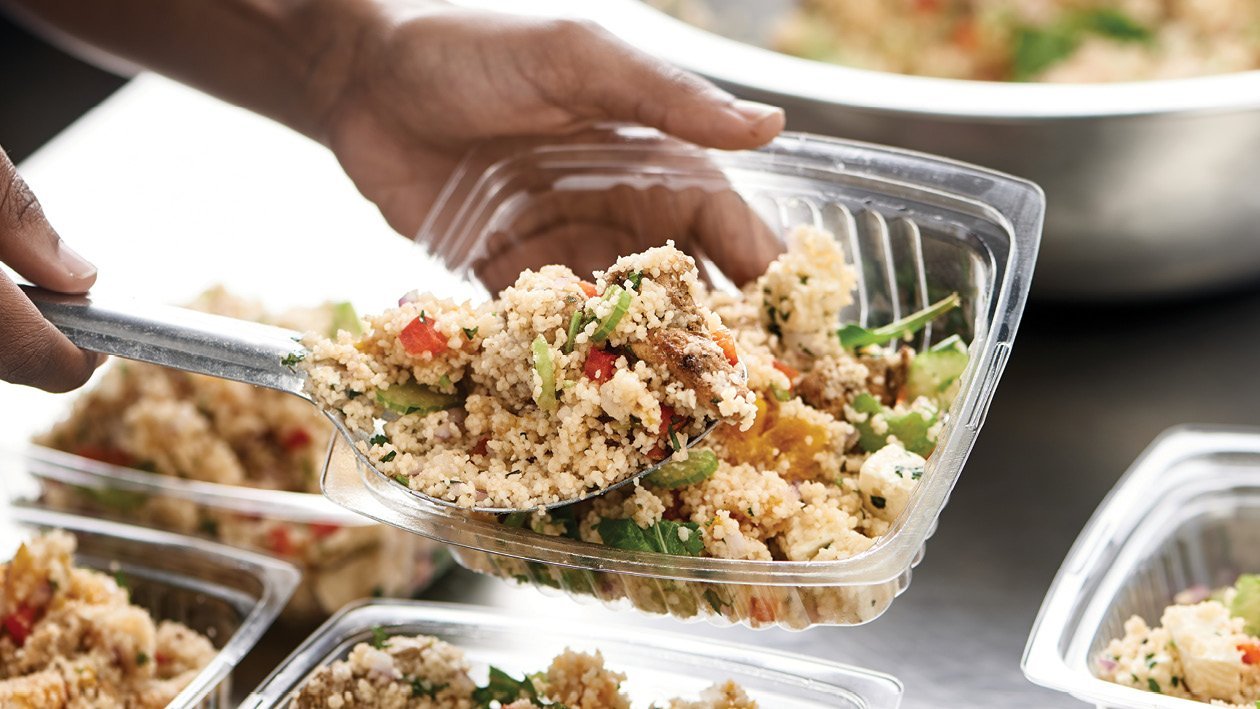 Ingredients
Preparation:
Chicken breast (sliced into fine strips)

500 g

Feta cheese (crumbled)

200 g

Red onion (cut into small cubes)

100 g

Red pepper (seeds removed and cut into small cubes)

200 g

Coriander (finely chopped)

20 g

Celery (thinly sliced)

200 g

Rocket leaves (fresh)

40 g
Preparation
Preparation:

Mix the chicken strips with the Robertsons Veggie Seasoning, cumin and oil and fry the chicken until it is cooked.
Soak the mango in boiling water for 5 min. Drain the water and chop into slices (not too thin).
Pour boiling water (600ml) over couscous, cover with cling wrap and leave to stand for 5 min. Separate with a fork.
Once the cooked couscous has cooled, mix it together with the cooked chicken, the mango and the salad ingredients (feta, onion, celery, red peppers, coriander and rocket or baby spinach). Pour over the Hellmann's Creamy Salad Dressing and mix gently to combine. Make a 1 x 1/2 Bain Marie insert
Place the mixture into salad containers, seal, label and serve!

Chef's Tip:

Replace the mango with chickpeas, cooked broccoli or even roasted sweet potato.
Can replace the rocket leaves with baby spinach leaves

Hint:

Make sure all your ingredients are chopped, and cleaned before starting the cooking.